Audio Agency Supports Ride to Conquer Cancer!
Audio production company, Media Sound, is again doing their best to help give back to the community and has made a generous bid to Team Sunshine in their ride to help conquer cancer.
Media Sound's national production manager, Ben Harrison, was the first to donate to the charitable cause and is asking his clients to help Team Sunshine raise funds for Queensland's Institute of Medical Research.
"Two of our friends have teamed up and are prepared to ride through the beautiful Queensland countryside for two days straight in order to raise funds for such a worthy cause.
"Media Group are really proud of what they hope to achieve and as soon as they told us about their adventures, we knew we wanted to help out,
he said.
The Ride to Conquer Cancer will be held in August 2011, and is open to anyone who has the motivation, a helmet and a bike.
The program has been designed to help anyone who is interested in taking on the challenge, no matter what their fitness levels are. Training days will be organised throughout the year to help all contenders get ready for the big day.
Team Sunshine's captain, Natalie Masters, is quite positive about her venture and has already started training.
"When I first read about the Ride to Conquer Cancer I knew straight away that I wanted to do it. No questions asked. Cancer has affected many people I know. It is real and it can be quite devastating. I'm hoping that by making a small contribution now, a huge difference will be made in the future.
"I'm a little worried about the distance we are expected to ride, but hey, I've got another 9 months to train," she said.
To find out more about how you can become part of the team or how to make a donation, visit http://br11.conquercancer.org.au.
For the original story visit http://www.mediasound.com.au.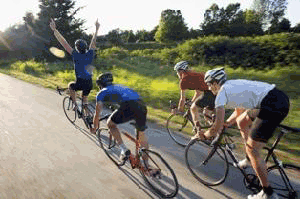 Media Sound
2, 2 Spencer Road
Nerang, QLD 4211