Professional Audio Recordings for Multimedia Applications
You've heard all this hype about something called multimedia … but you're not a 100% certain just exactly what it is, and how it can benefit your business. I mean you do heaps of advertising right, in print and online, so that should complete your marketing mix … right? WRONG! Multimedia is just as the name suggests, it's multi-media, using multiple forms of media – not just the static, but incorporating audio and video as well.
Don't get us wrong, a good print campaign can go a long way. A well-chosen online advertisement should also guide traffic to your website; but incorporating professional audio and video elements into your multimedia advertisement can really help you drive sales. Take for instance the audio element, consisting of a mixture of professional voice over recordings, sound effects and music; all ingredients that can really set the tone for say your website or even your social media platforms such as Facebook or YouTube.
On a hypothetical note, say you owned a veterinary clinic and you wanted to provide your online customers with information on how to search for ticks on your pet. Well you could do what all your competitors are doing and provide all your information in a text format with some pretty pictures, or you could produce a mini video-clip with visuals (be it still or animated) accompanied by a professional audio production. Think about it, an audio presentation combined with visuals will make it easier for your audience to understand the complex information you are giving them. If chosen well, your voice over artist should really convey the temperament of your business. Music and sound effects mixed into your audio production will bring your piece alive, and help your audience relate to the topic at hand.

By getting your audio produced for your multimedia advertisement by a professional recording studio, you will be guaranteed a rich and satisfying experience. A good audio production company will have hundreds of royalty free music beds and many professional voice artists to choose from. They will also know the best sound effects to really bring your multi-media production alive.
Think of this mix of visuals and audio as your very own mini-internet commercial, with countless avenues to display it and a large and hungry audience to find it. Embed your multimedia advertisement on to your website and onto your Facebook page so your customers can find it, and then set up a YouTube channel so that anyone in the world can find your multimedia – audio and visual advertisement.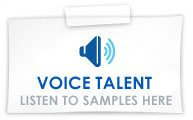 ---